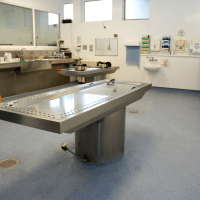 The planning and design of mortuary and post-mortem facilities can be challenging, particularly when choosing the correct hygienic flooring solution. The floors need to provide high levels of chemical resistance and long-standing hygiene to prevent the spread of bacteria and remain slip resistant under wet conditions. With frequent cleaning regimes, the floor must be easy to maintain and extremely hard-wearing.
Floor finishes which are commonly installed within these demanding areas include, ceramic and terrazzo tiles as well as vinyl, however, each offers limitations which impair their suitability within these environments. Very rarely do these systems provide the required slip resistance in wet conditions and can pose a slip hazard to employees. Grouted joints and seams are extremely hard to clean and maintain, providing an ideal breeding ground for bacteria. Floor finishes can frequently fail at seams and joints as they create weak spots, as a result, maintenance is greatly enhanced.
A resin flooring that's also a suitable hygienic flooring solution can provide the ideal alternative. The floors are seamless and completely impervious leaving nowhere for bacteria to breed. RESYN specialise in the installation of Degafloor MMA quick curing resins to ensure installations can be completed quickly and efficiently with minimal disruption. The resins can be put to full use within just two hours of installation, this includes cleaning regimes.
The Degafloor FB system, which has been installed at a number of hospitals, is an extremely hardwearing, slip-resistant hygienic flooring solution. The system, which chemically bonds to the substrate, was installed directly over the in situ terrazzo tiles at Barnsley District General Hospital to minimise disruption. To eradicate water pooling issues at Luton and Dunstable Hospital, RESYN created falls using a fast underlay screed, which was finished with the Degafloor FB system. Both hospitals have greatly benefited from the installations and now have hardwearing, slip-resistant and hygienic flooring solutions.
Louise McDonald from Luton and Dunstable comments, "RESYN gave us the best solution & advice to resolve our problems. The Post Mortem Room was closed for four weeks for refurbishments & staff from RESYN had to fit into our tight time schedule. The project was fully completed within our agreed dates & all issues relating to the existing floor were removed by our external governance bodies. The Staff are very pleased with the resulting improvements to safety, the floor's appearance & ease with which it can be cleaned."
Should you like to know more about the Degafloor products we use, please get in touch with our friendly team, or take a look at our past works. 
In order to use a Degafloor product, flooring experts RESYN team had to undergo specific training and become a certified Degafloor 'Approved Installer'.